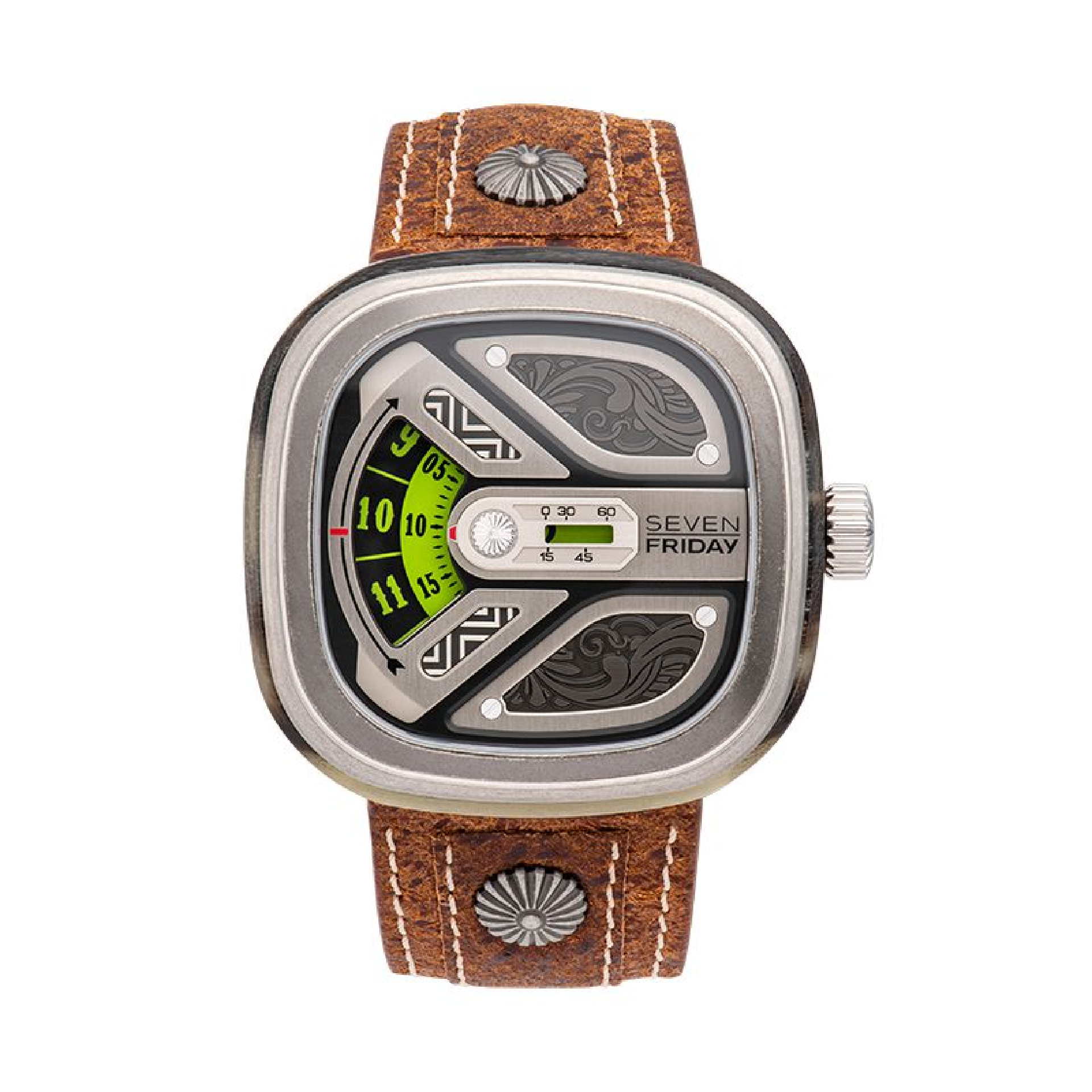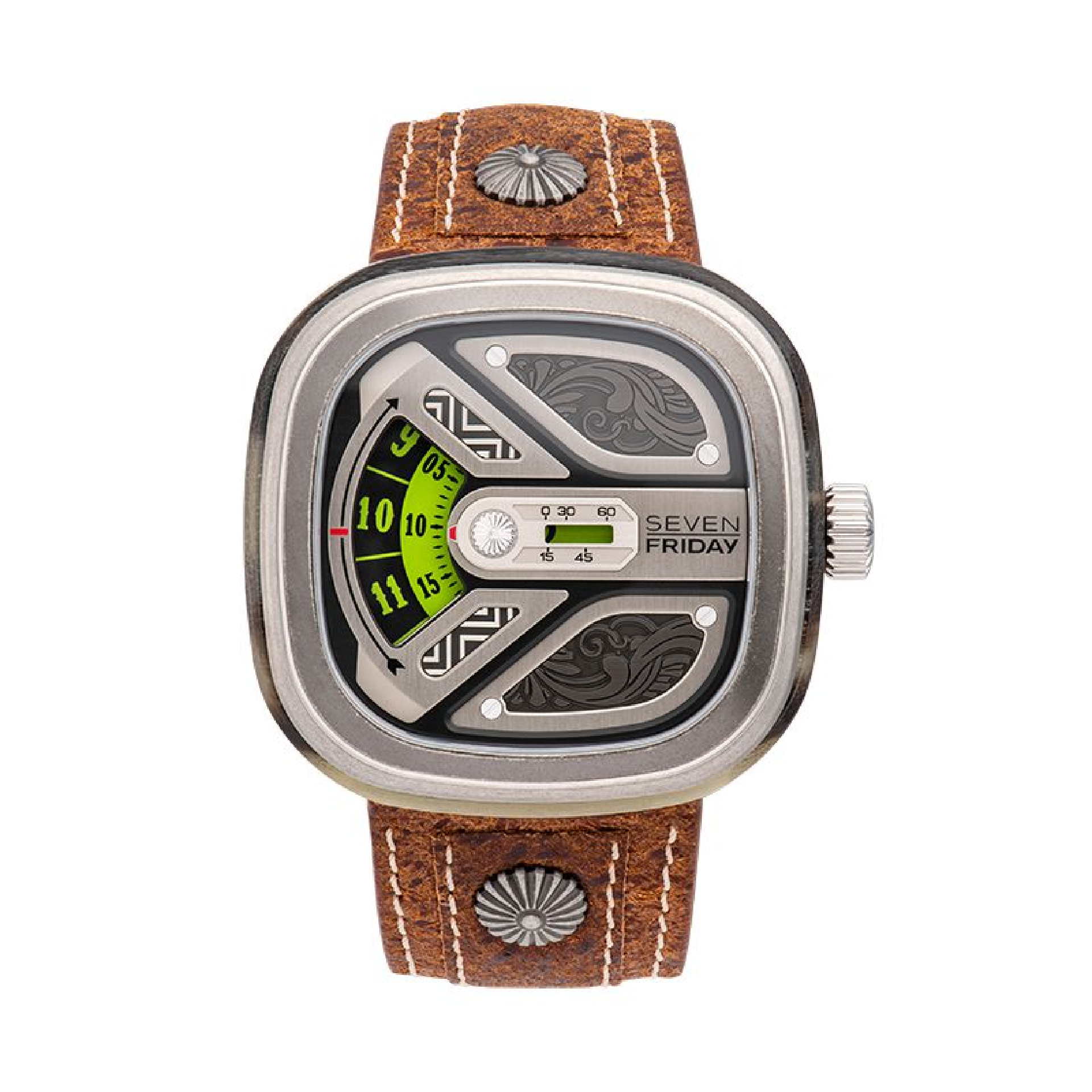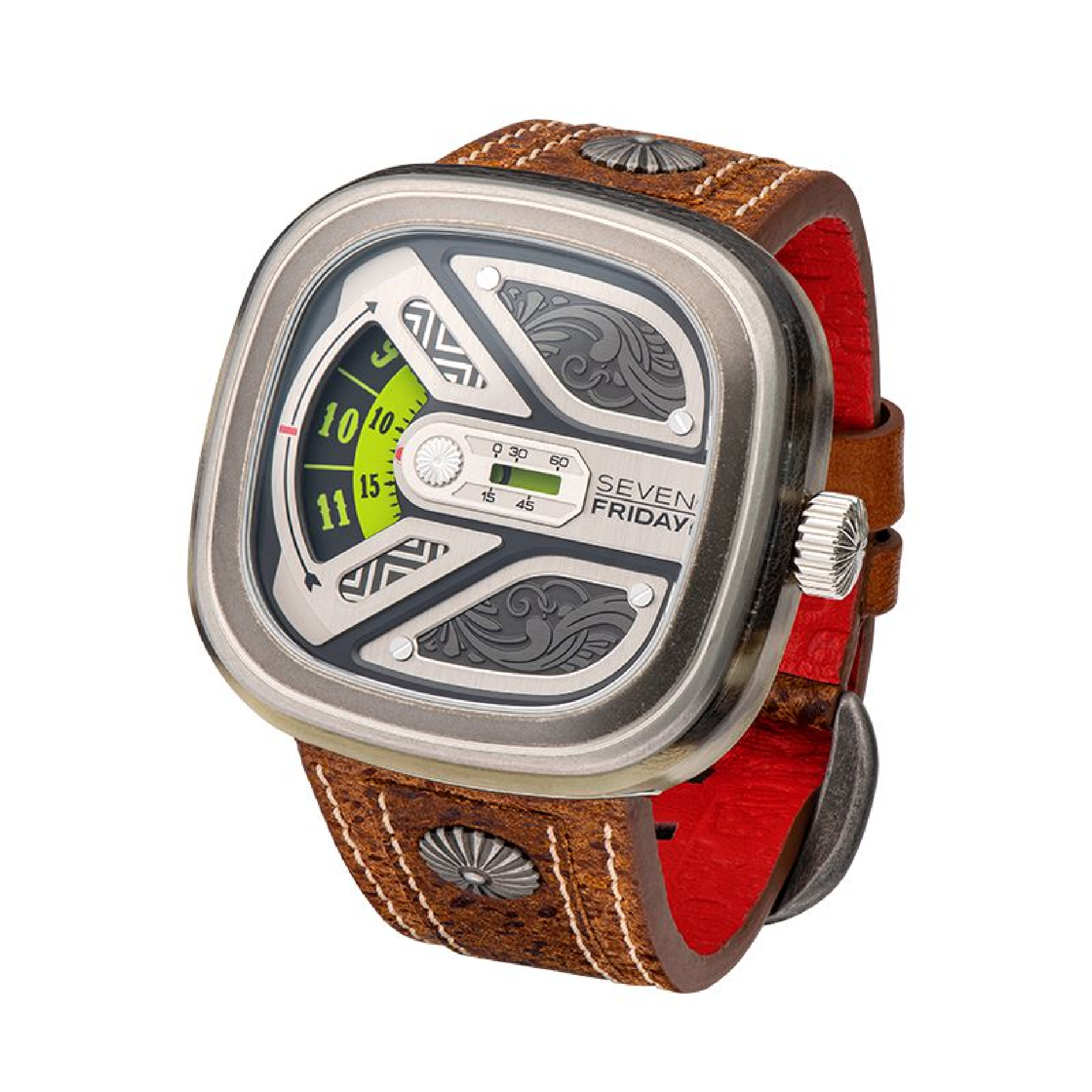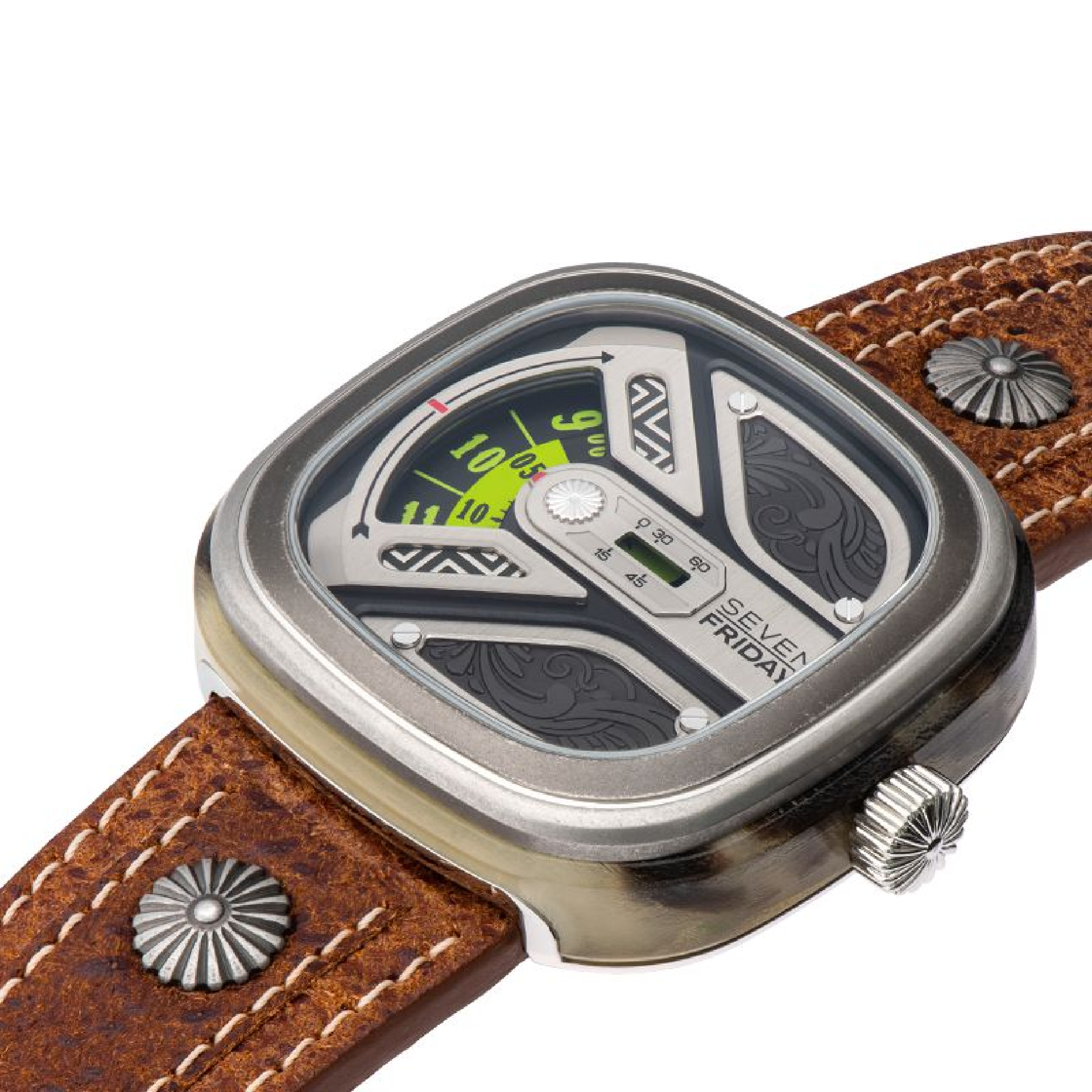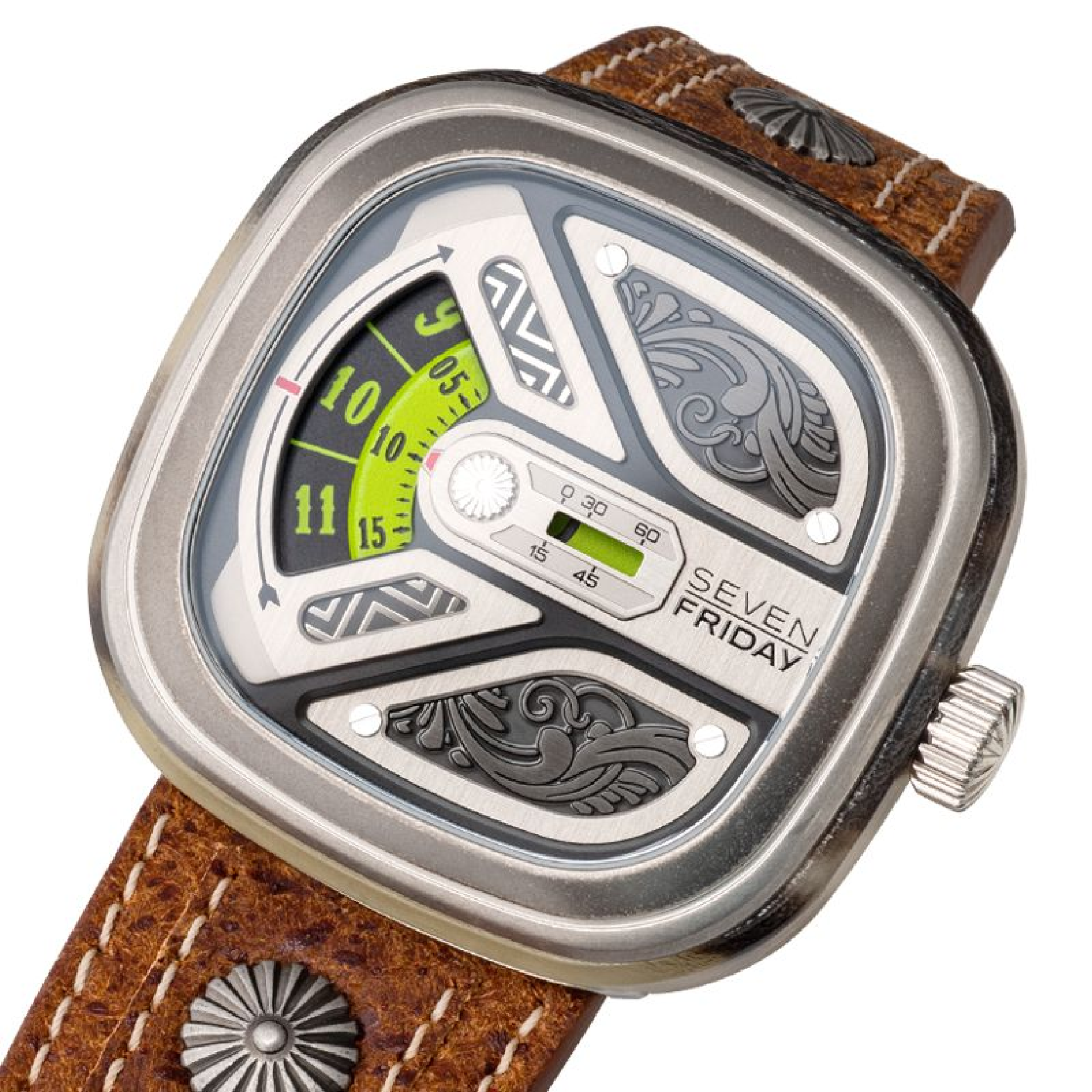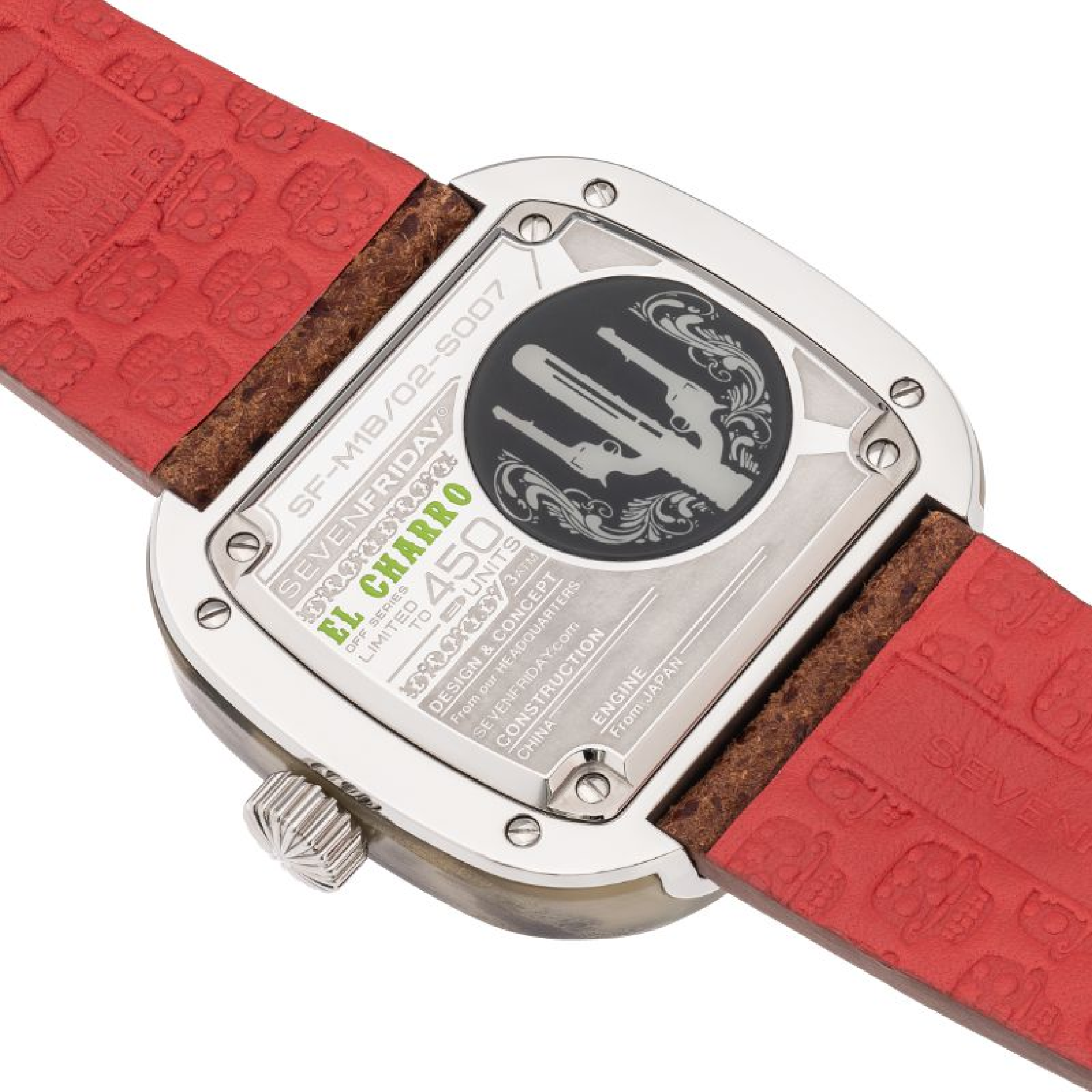 M1B/02 "EL CHARRO"
---
They were Mexico's swashbuckling heroes whose fighting skills, horsemanship and sheer bravery inspired SEVENFRIDAY'S latest timepiece - welcome the M1B/02 aka `El Charro`- Limited to 450 units worldwide!

And if putting bandits out of their misery wasn't enough, these hybrid cowboys from yesteryear looked pretty damn fine too, helping to drive the design of the El Charro with, of course, our signature SEVENFRIDAY twist.

Part of our popular 'M Series', the new piece uses patterns and materials synonymous with the 'Charro' attire, making sure it's packed with cool, cultural and fun design nods for those who like something a little different.

Paying homage to the traditional craftsmanship of the Mexican artisan, other features include an animation ring presented in exclusive natural horn material with decorated and engraved horse saddle inspiring the strap and buckle.

Bold design elements include the Calavera Mexican skull featured on the hour disc and the aged case mimics the metal features of an El Charro and his sturdy companion's wears.

The piece also includes pops of bright green to mirror the cactus with signature 'gun v cactus' engraved on the underside chip disc.
---
BOX
• Size: 47,6mm (W) x 47mm (H)

3 pieces construction. Polished stainless steel (316L) case; aged-metal bezel with a grooved line, polished personalized caseback.

Animation ring in genuine natural horn. Polished specific ornamental stainless steel (316L) crown. Hardened K1 mineral glass, one-layer anti-reflective coating.
---
Interface
7 layers construction dial (multi-level principle)

1st layer (bottom): Support plate meant to raise the whole dial over the hand fitting stems

2nd and 3rd layers: Gun metal plate holding the pistol engraving pattern, framed over by a rhodium vertically brushed plate carrying 4 polished screws

4th layers: Black matt plate with Aztec polished pattern

5th layer: Vertically brushed rhodium arch plate, framing the hour and minute time reading window

6th layer: Vertically brushed rhodium plate with black relief printed SEVENFRIDAY logo

7th layer: Horizontally brushed rhodium rectangular plate at the center, framing the running second time reading window. Polished ornamental horse saddle tack

HOURS: Largest black and "cactus" green disc on the left side window, turning clock-wise. Mexican skull displayed at 12h. Pointer: red marker at 9H

MINUTES: Smaller black and "cactus" green disc on the left side window. Pointer: red marker close to the center large screw

SECONDS: black spinning line (on green background) turning clockwise, moving along the rectangular window at the center (from 0 to 60)
---
NFC
Chip on caseback below round cover, exclusive Cactus Vs Pistol design for "El Charro"

Chip in connection with official SEVENFRIDAY APP allows verification & registration of the watch
---
Other Features
Brown aged and cracked genuine leather. Double layered, off-white stitching, large or-namental horse saddle tack

Red genuine leather lining with specific Mexican skull pattern (same as on the hour disc at 12h)

Tapered from 28mm (case side) to 24mm (buckle side)

Buckle: Aged stainless steel (316L) with specific engraved pistol pattern

Engine: Automatic movement: Customized Miyota 8215

Frequency: 21'600 Beats per hour

Tolerance: Approx. +/-20 sec per day