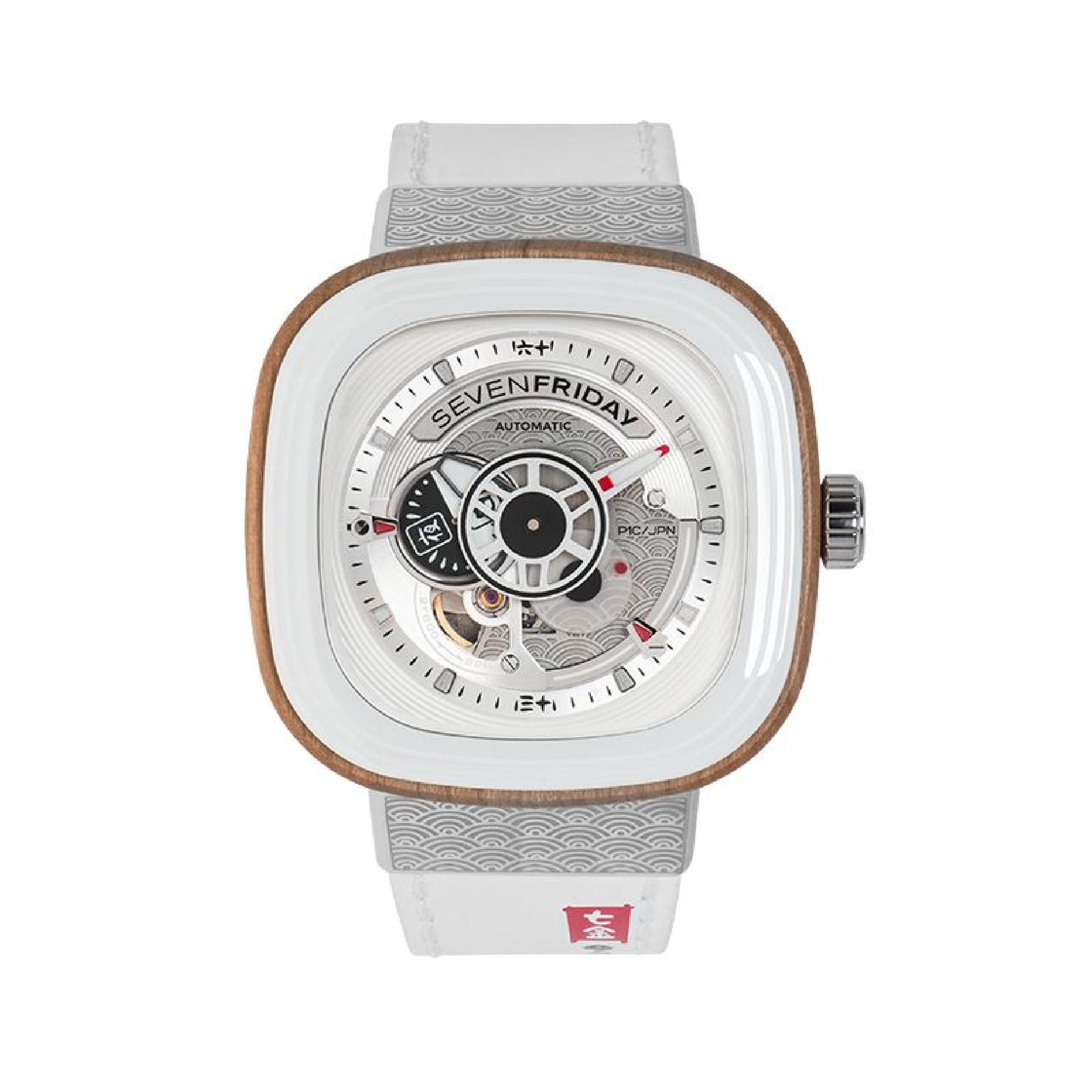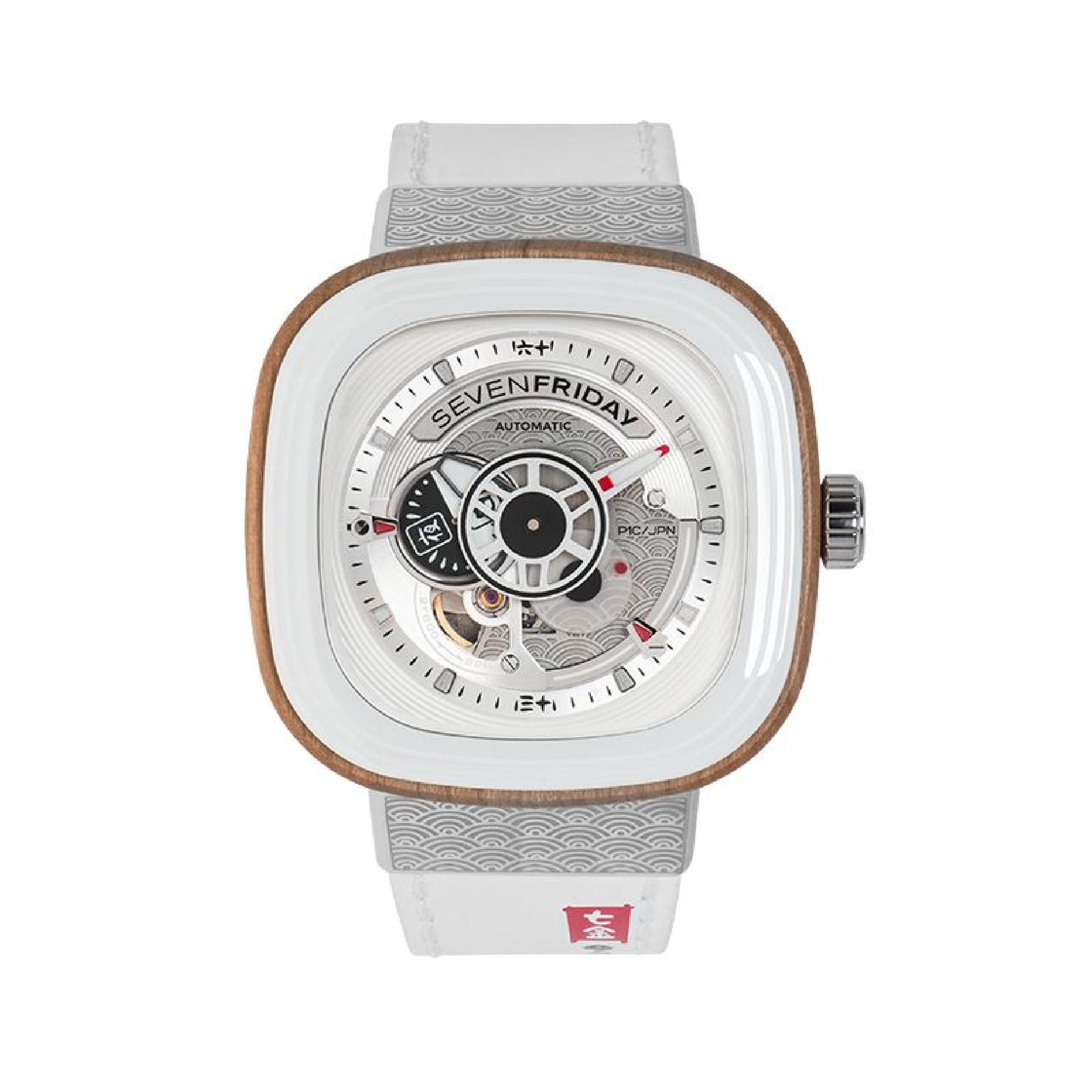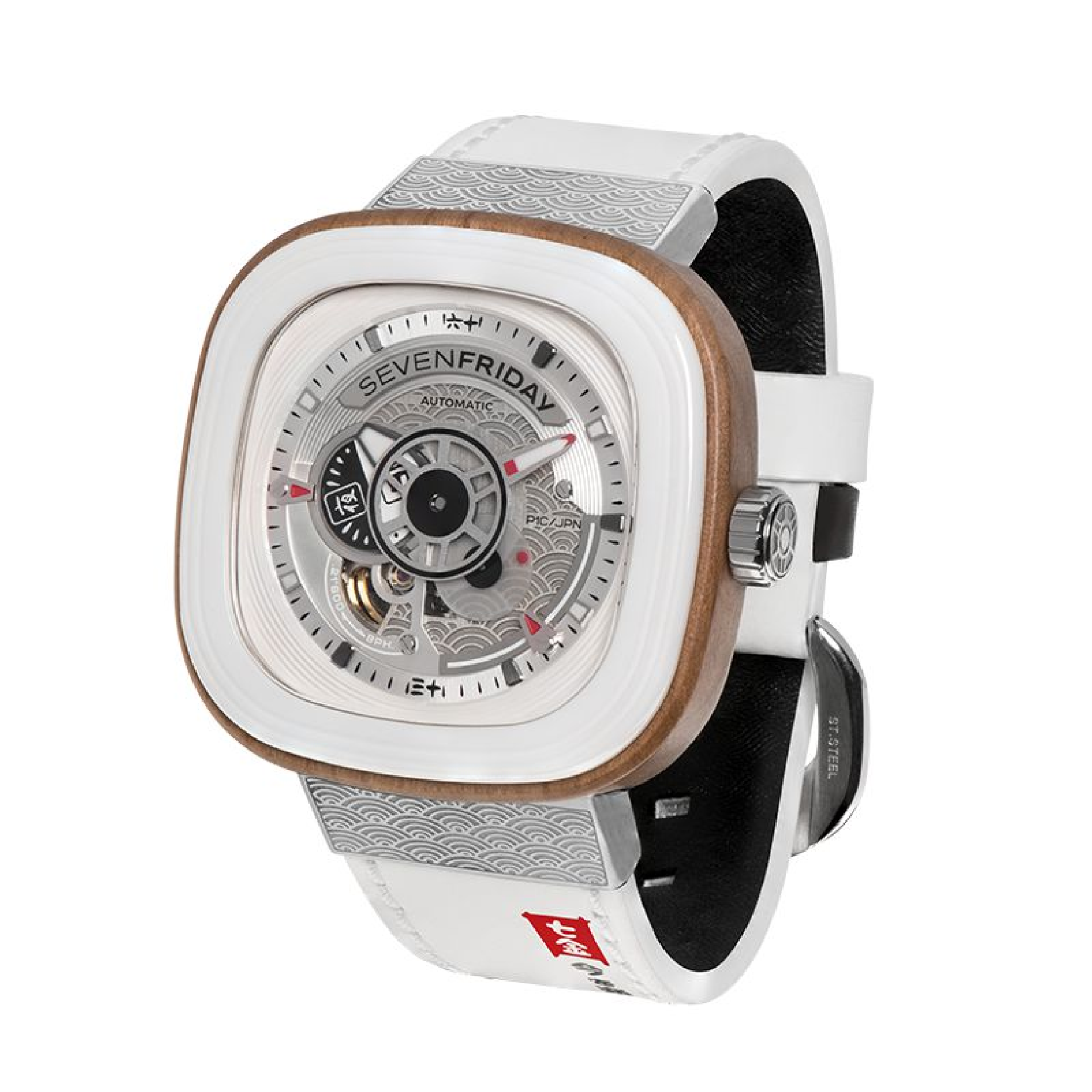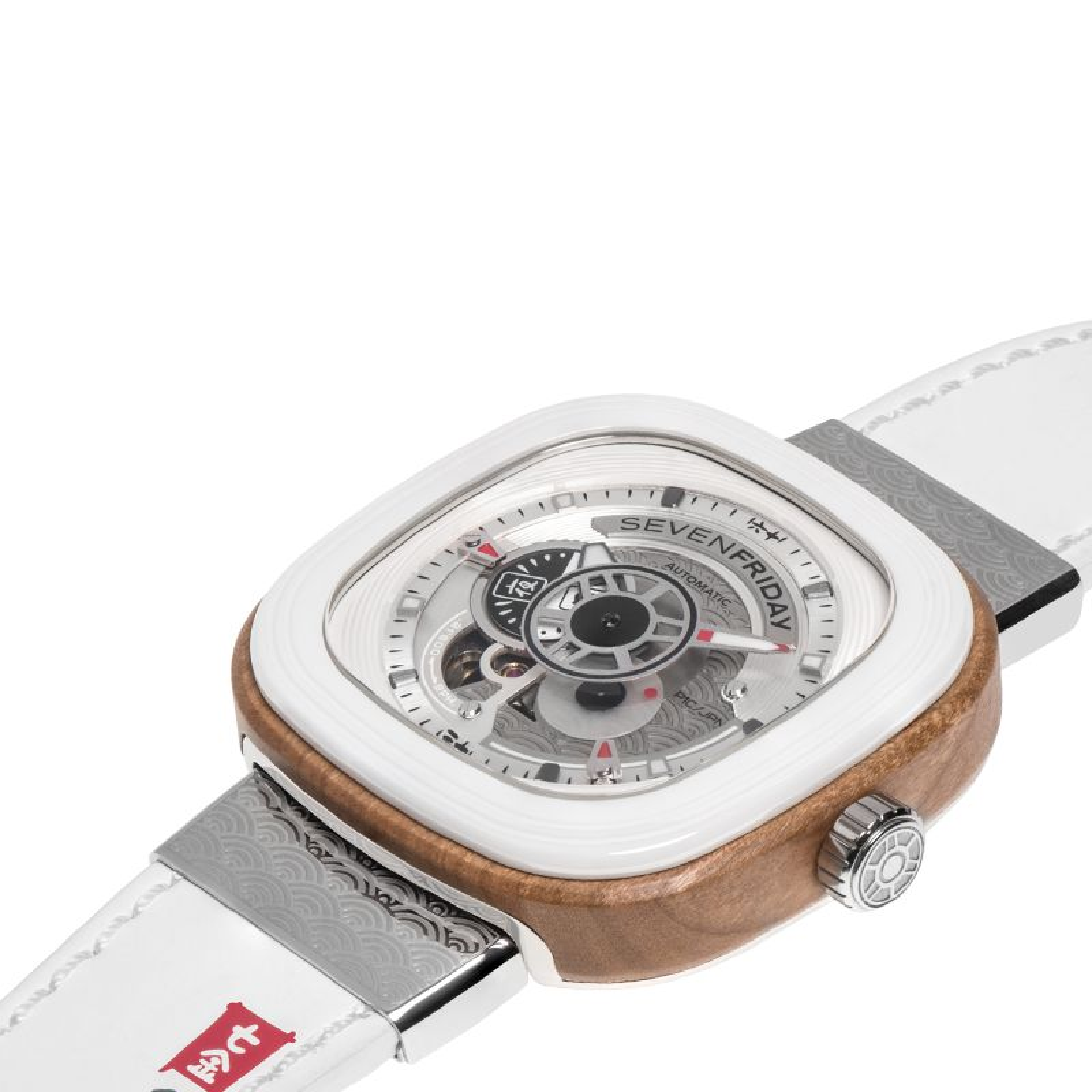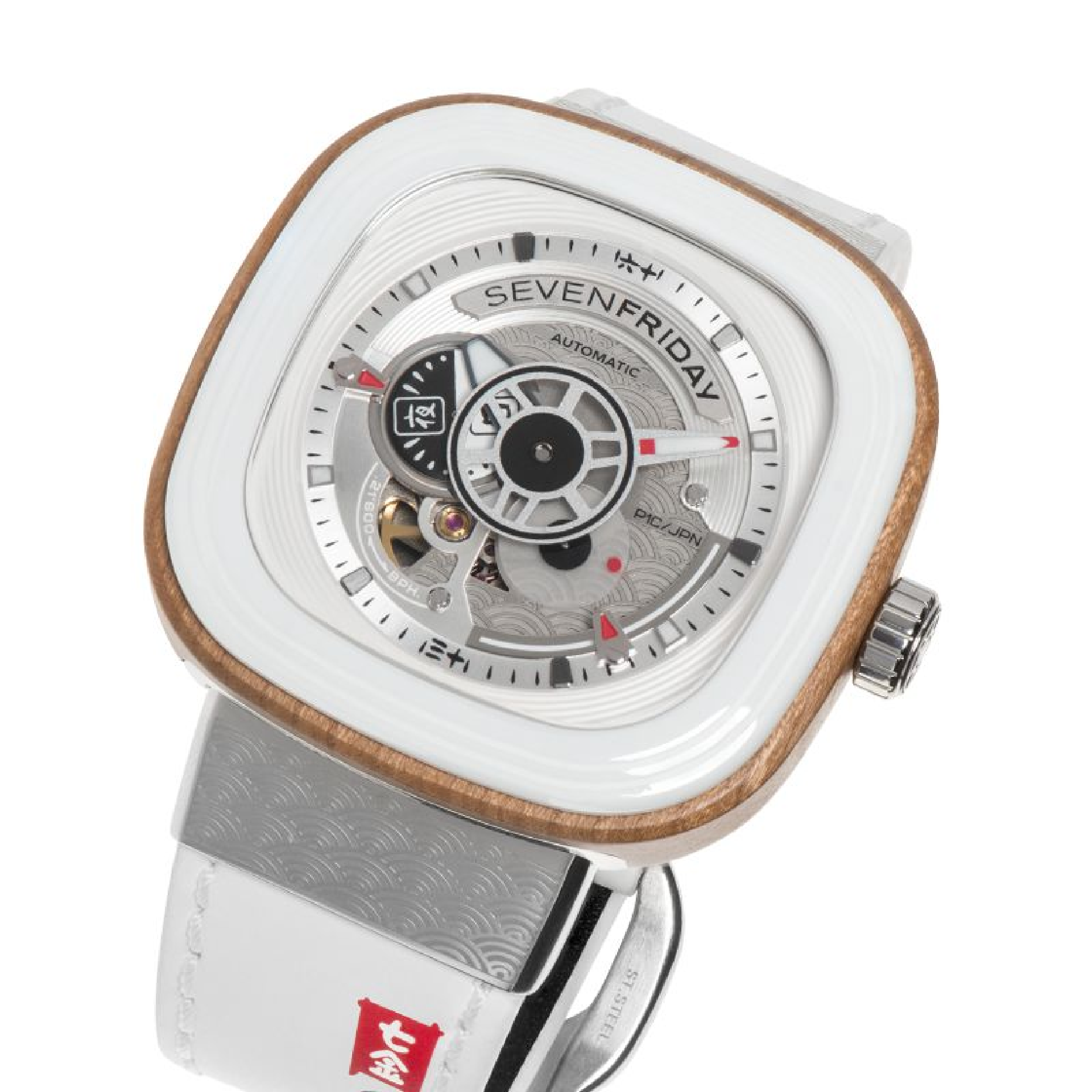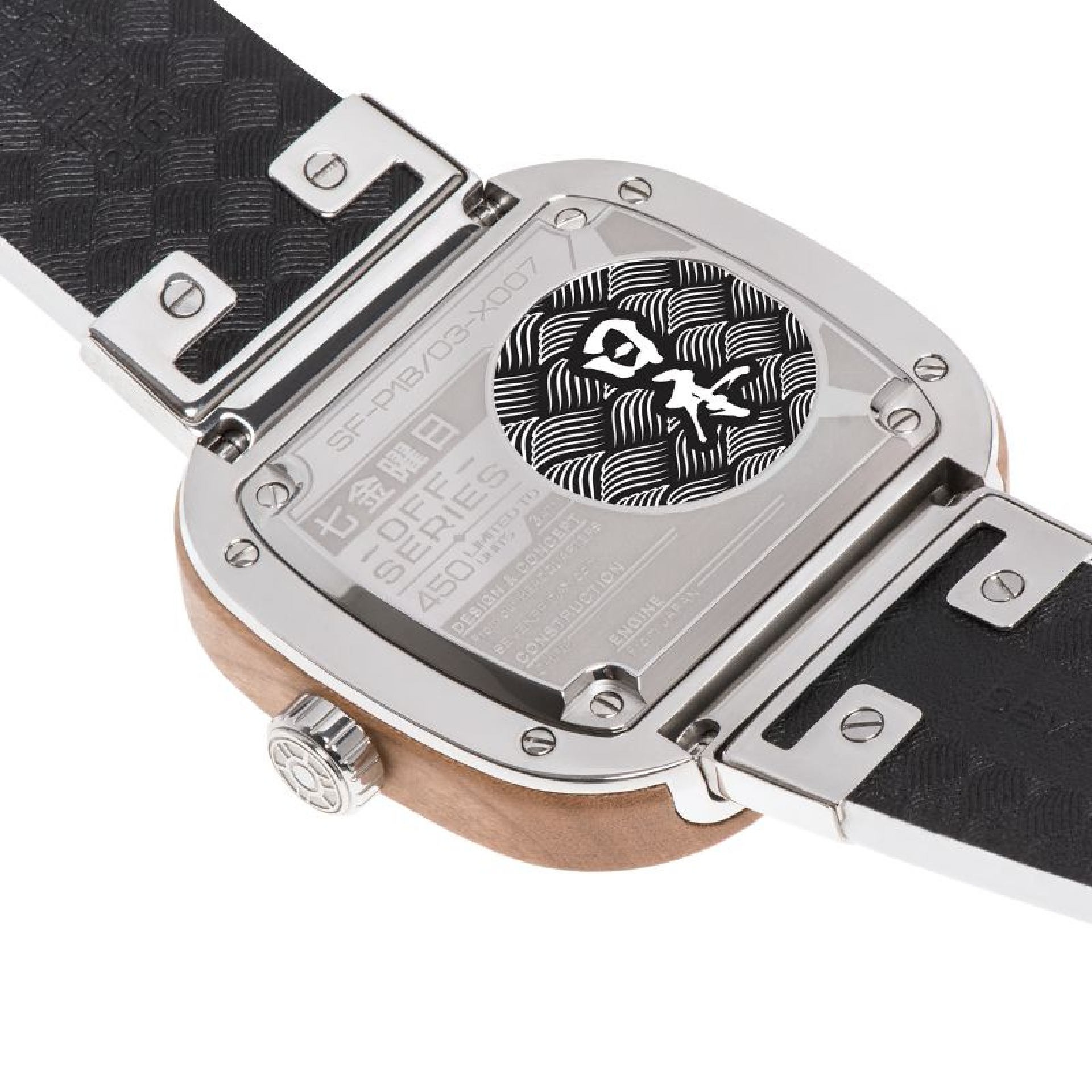 P1B/03 "JAPAN"
---
Ripe with tradition and influence, the P1B/03 Japan inspired Off-Series is a journey through the history and geography of the eastern archipelago. The multi-level interface incorporates rhodium and translucent discs surrounded by a white bezel made of ceramic, a nod to the enduring popularity of the tea ceremony. Never without symbolism, the base plate is pressed rhodium in a popular block-print wave pattern. Meticulously raked white sand found in zen gardens suggest water and purity on the opalin silver second layer while gun metal hour indicators at 1H, 3H, 5H, 7H and 11H represent rocks which are precisely placed as a symbol of permanence. The cherry wood animation ring takes inspiration from the seasonal gift of the Cherry Blossom Festival, celebrated throughout the country and around the world
---
BOX
47.6 mm (W) x 47 mm (H)

Case: Polished stainless steel case

Bezel: Polished white ceramic with two sandblasted groove lines

Caseback: Polished stainless steel with "SEVENFRIDAY" insignia in Japanese and special black watermarked disc with "Japan" in vertical traditional script

Animation ring: Cherry wood

Glass: Specially hardened and anti-re ective treated mineral glass
---
Interface
Five layers of rhodium, opalin and transluscent discs with a pressed rhodium base plate and block-print wave pattern. The black SEVENFRIDAY logo is written under "六十" and "三十" indicating "60" and "30" respectively in Japanese characters

Hour hand: Cool grey hour hand lled with Super- Luminova®

Minute hand: Matt white minute wheel with black colored center and outer ring and Super-Luminova® lled tip with red details

Seconds disc: Translucent white seconds disc with black printed centered area and red seconds marker

24-H disc: Black and white 24H disc with white half indicating daytime with the Japanese symbol "日" and black half indicating nighttime with "夜"
---
NFC
The NFC chip embedded behind the globe allows authenticity verification via the SEVENFRIDAY Android App and authorized retailers
---
Other Features
Strap: Inspired by the protective gear worn by riders during the race, the leather and silicone lined strap narrows from the box

Water resistance: 3ATM - Splash/Rain resistant - No swimming - No diving

Engine: Automatic movement, Miyota 82S7, 40H power reserve